Tourism in Iceland in Figures, Summer 2022 - summary
Tourism in Iceland in Figures – Summer 2022 presents a summary of international visitor numbers as measured by departures from the country via Keflavík Airport, overnight stays in registered accommodation, hotel room availability and occupancy rates and some further information about the tourists, e.g. the main purpose of their visits, length of stay and regions visited.
Summer visitors top 653,000
Just over 653,000 international visitors* entered Iceland via Keflavík Airport last summer (2022). This was more than twice as many as in 2021, 96% of the number recorded in summer 2019 and about 81% of the figure for 2018, which was a summer record.
By country, visitors from the USA were by far the largest group (205,000), accounting for nearly one third of the total. This was the third time since the count began that US visitors topped 200,000: in summer 2018 the figure was 293,000 and in 2017 it was 227,000. Germany was the country of provenance of the second-largest group, with just under 63,000 this summer, some 36,000 up on the figure for 2021 and 6,000 above that for 2019. France, the UK and Italy supplied the third, fourth and fifth-largest groups this summer. This was the second time that Italy ranked in the top five, having been in fourth place in 2020. The vast majority of international visitors – more than nine out of ten – were on holiday this summer. About 2.8% were visiting friends or relatives and 2.2% were on business trips; about 1.6% came for other purposes.
Average length of stay 8.6 nights
On average, Iceland's summer visitors spent 8.6 nights in the country this year, half a night shorter than in 2021. Corresponding figures for 2019 and 2018 were slightly lower again, at 7.8 and 7.5 nights respectively. Covid-19 seems still to be having an impact on these figures, as visitor stays lengthened considerably when the pandemic was at its height.
US visitors averaged 7.1 nights in the country in summer 2022, and in the light of their numbers this factor weighs heaviest in the overall figure. Of the ten largest groups by country of provenance, German, Polish and French tourists spent the longest time in Iceland, spanning the range 10.5-11.3 nights, followed by those from Spain, the Netherlands and Italy, whose stays in the country ranged from 9.3 to 9.7 nights.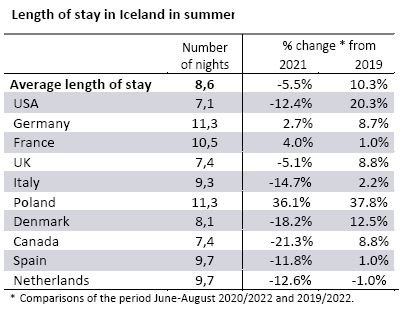 More overnight tourist hotel stays than before the pandemic
At nearly 1.7 million, the number of overnight stays in hotels this summer (2022) was 680,000 over the 2021 figure and 237,000 above that for the summer of 2019, which was the last before the Covid-19 pandemic struck. International visitors accounted for about eight out of every ten overnight stays in hotels, the number reaching just over twice that for summer 2021 and 4% above the figure for 2019: lower visitor numbers have been offset by longer stays.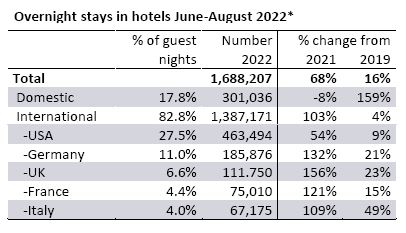 Hotel occupancy rates at 89% in July and August
There were about 11,600 hotel rooms on offer at the summer peak in Iceland in 2022, nearly half of which (46.8%) were in the capital region. The offer was 17% greater than in 2021 and 7% above that for 2019. Room occupancy for the country as a whole came to just under 80% in June and 89% in July and August. Occupancy rates in July and August topped 90% in three regions: the capital region, the South and the East. Occupancy rates in the other regions ranged from 79% to 84%. Occupancy of 69-82% was recorded in June, the capital region and the East enjoying the upper end of this range.
Record overnight summer occupancy by international visitors in registered accommodation
Just over four million overnight stays were recorded in registered accommodation in summer 2022, the occupants being international visitors in eight cases out of every ten. About two of every five nights were spent in hotels, 16% in guesthouses and just over two in accommodation of some other type.
The figure for overnight stays in registered accommodation in summer 2022 was 54% higher than for summer 2021 and about one fifth higher than in 2019. To a large extent, the increase can be attributed to international visitors, who accounted for nearly 3.4 million nights, a summer record. The domestic share in overnight stays fell by about one third between 2021 and 2022; the 2021 figure, nearly 1.2 million, was a record. The domestic share was also high in 2020, Icelanders having taken the call to holiday at home seriously while the pandemic was at its height.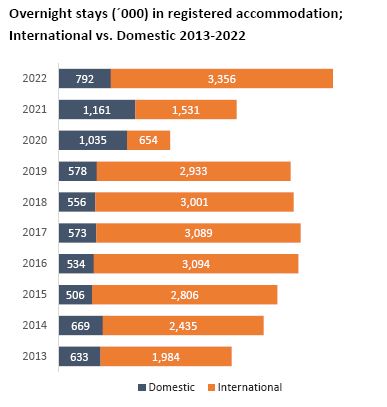 * Based on departure counts by the Icelandic Tourist Board and Isavia at Keflavík Airport. Figures subject to reliability limitations inherent in the methods used.