Numbers of foreign visitors
Total number- All entry points
The total number of foreign overnight visitors to Iceland was around 2.3 million in 2018, a 5.4% increase from 2017, when foreign visitors numbered around 2.2 million.
Around 98.8% of the total number of visitors came on flights through Keflavík International Airport. Around 20,700 visitors came with Norræna through Seyðisfjörður, or around 1% of the total. Around 7,100 came on flights through Reykjavík Airport or Akureyri Airport, or 0.3 % of the total.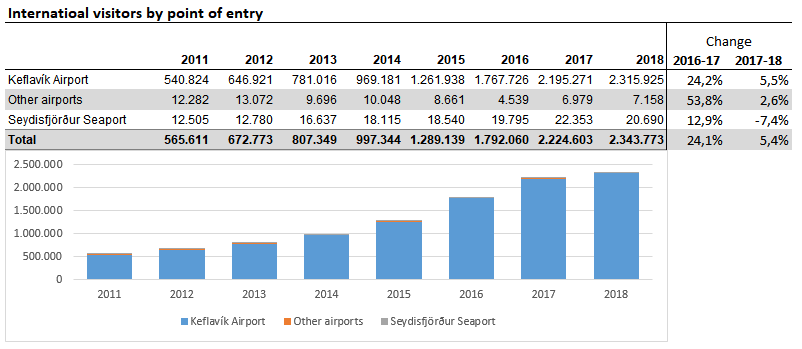 ---
Nationalities - Keflavik Airport 
Almost 99% of visitors to Iceland come through Keflavik Airport. The counting of departing passengers at the airport provides additional information on the composition of visitors to Iceland. This is done by manual counting just before the visitors enter the airport security. It´s worth mentioning that, by using this method, all passengers that go through the security check, are included in these numbers. Therefore these figures need to be viewed with a certain caution. It has to be emphasized, though, that most transit passengers are not included in these numbers.*
Year-over-year (YOY):
*By using the same method, valuable statistics regarding the number of visitors and the composition of nationalities have been gathered, that are comparable from year to year. Results from surveys conducted among departure passengers indicate that 86.3-92.7% were visiting Iceland for personal or commercial purposes. Those who only used the airport to change flights, i.e. self – connecting between flights of two different carriers / airlines, turned out to be 1.7-4.8%. Another 1.6-6% had enjoyed some services (sightseeing, recreation, meals etc.) outside the airport without staying overnight. Additional 2.7-4.7% were foreign citizens living in Iceland for a shorter or longer time. These percentage figures could vary between months and seasons.