The registration of a booking service and/or information centre
All operations of booking services and information centres must be registered in accordance with the Tourism Act, whether the services be rendered by an individual, company or association.
Booking service denotes the operation of any form of booking service for the benefit of the public, tour operators or travel agencies, whether in Iceland or abroad, including electronic booking services.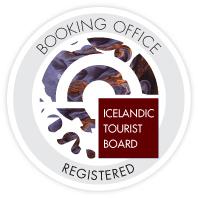 Information centre denotes a party which carries out the objective and unbiased provision of information to the public. An information centre neither organises, offers for sale nor advertises tours or other travel-related operations.
Any party who proposes to conduct operations that require registration shall notify the Icelandic Tourist Board in writing. The Icelandic Tourist Board issues a certificate to confirm that notice has been received of the operation and that it fulfils legal notification requirements. Only those who have been issued with a certificate from the Icelandic Tourist Board are permitted to use the terms booking service and information centre as part of the name of an operation covered by the Tourism Act.
The Icelandic Tourist Board is authorised to remove a registered party from its register in the event that the registered service has been terminated or it has been extended to cover the definition of a tour operator or travel agency. In the event of a dispute, the Icelandic Tourist Board shall decide as to the category in which an operation is to be placed.
Documents
Application form - booking service and information centre

-  Not open at the moment, new application form will be ready in early January 2019