Tourist Information Centre Opens in City Hall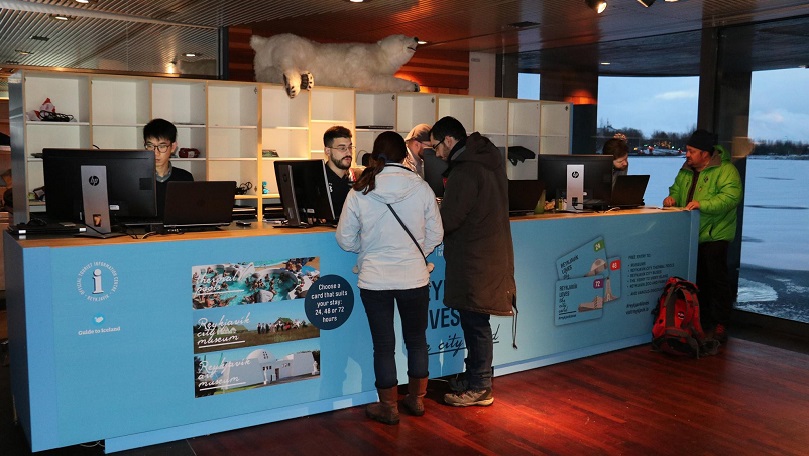 The Reykjavík Tourist Information Centre was opened in the City Hall today, Monday 16 January. The Information Centre has been operating at nearby Aðalstræti 2 since 2002. Visit Reykjavík runs the Tourist Information Centre with funding from the City of Reykjavík, a grant provided by the Icelandic Tourist Board and now also in collaboration with the company Guide to Iceland. The Information Centre, which has an average of nine staff, is open every day of the year (except Christmas Day) 8.00 to 20.00.
Most visitors to Reykjavík call at the Tourist Information Centre before planning what to do on their visit to Iceland. Last year 475,000 tourists received the Information Centre's help and guidance, at their location in Aðalstræti. This was a 28% increase from the year before, a new record.
The Information Centre provides impartial, reliable information. In addition, the priority in bookings and sales is to managing distribution of tourists, their safety during their travels in Iceland and responsible tourism. There is also an emphasis on promoting culture and arts to tourists, and their access to events is facilitated through a centralised ticket sales system.
The Information Centre has been in a successful collaboration with Safe Travel, which is run by Icelandic Search and Rescue (Ice-SAR). The Information Centre ensures that up-to-date information on important safety measures is readily available to tourists. The Information Centre thus has an important role to play in the safety of visitors to Iceland.
The Tourist Information Centre has a major role in the Reykjavík Loves campaign, in collaboration with the other municipalities in the Greater Reykjavík area. The objective of the campaign is to guide tourists to new places in the capital region, thus reducing pressure on vulnerable sites in and around Reykjavík. Encouraging visitors to explore the area more widely leads to better utilisation of services and activities in the Greater Reykjavík area as a whole.
The Tourist Information Centre has introduced Vakinn – a quality system in Icelandic tourism which has the recognition of the Icelandic Tourist Board. The Information Centre operates under Vakinn's strict quality and environmental standards, thus contributing to the social responsibility of tourist companies.
Áshildur Bragadóttir, director of Visit Reykjavík, says the following about the opening:
"I am truly pleased to open the Tourist Information Centre in City Hall, which is one of the most recognisable landmarks in the city and one of the places that tourists visit during their stay. This beautiful building is in the heart of central Reykjavík, and the new location of the Information Centre is sure to be an added stimulus to the surrounding area. There are exciting times ahead in tourism and I am looking forward to addressing them in collaboration with the company Guide to Iceland."