Tourism in figures – October 2019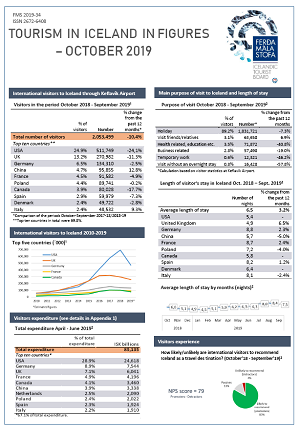 "Tourism in figures – October 2019" have been published recently. This is one of the monthly publications of the Icelandic Tourism Board (ITB), a short compilation of the most recent statistics about tourism and tourists gathered by ITB as well as data from Statistics Iceland. The emphasis is on looking at data from recent years to find changes, that may have occured.
In this publication you find for example statistics on:
The number of tourists travelling to Iceland through Keflavik Airport
The number of overnight stays
Hotel occupancy rate
Purpose of visit, length of stay and NPS score
Tourist expenditure in the 2nd quarter of 2019.
As stated above, these tourism statistics will be reviewed and published monthly as a part of ITBs increased emphasis on research, data gathering and the publishing of statistics.
All questions or comments are welcomed, please send those to oddny@ferdamalastofa.is