Slightly fewer than 2 million passengers 2019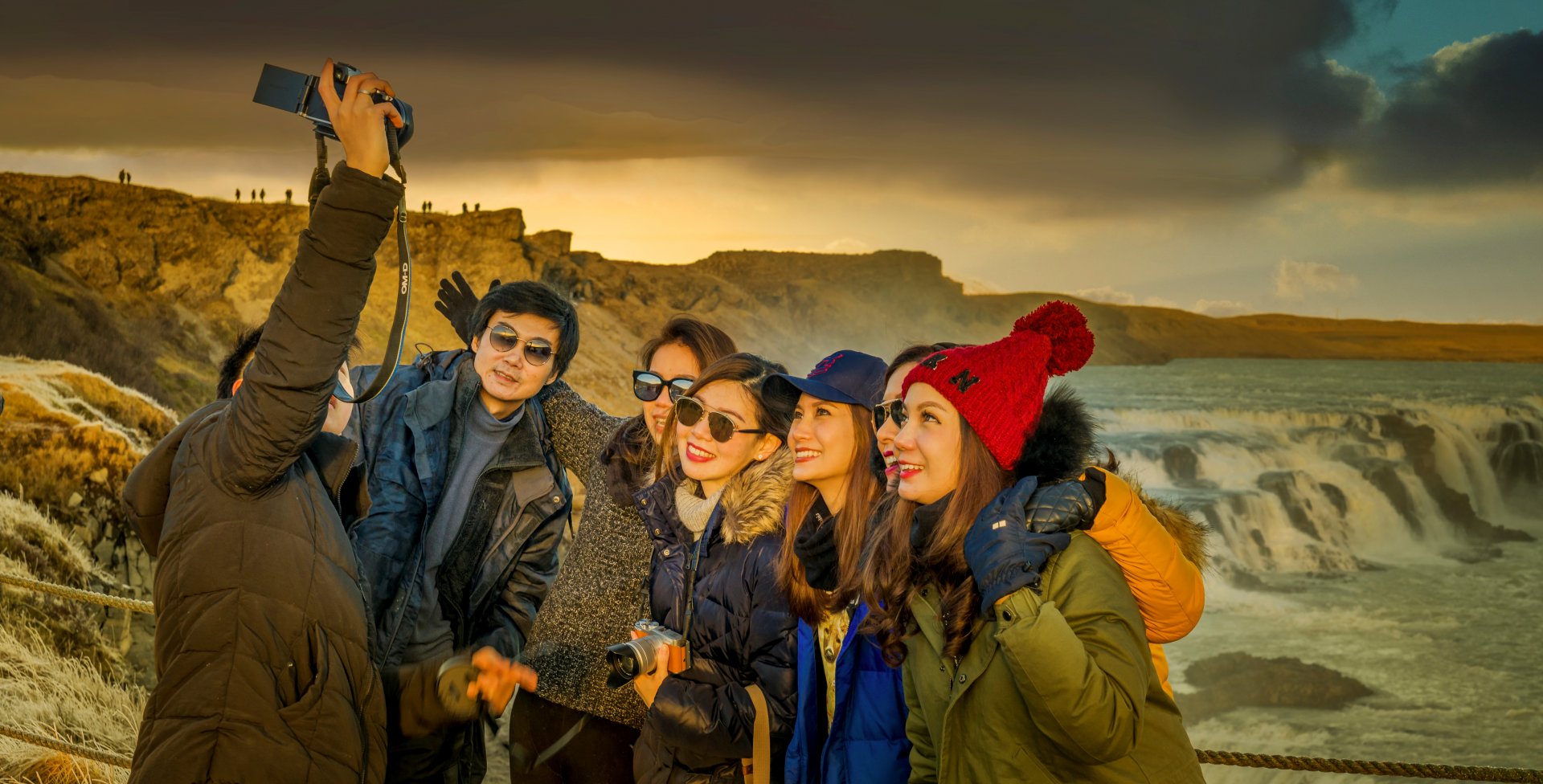 Tourists at Gullfoss. Photo: Ragnar Th. Sigurðsson
Departures of foreign passengers* from Iceland through Keflavík Airport were slightly fewer than two million in 2019, or approximately 329 thousand fewer than in 2018, according to the figures of the Icelandic Tourist Board and Isavia. 
The decrease between years is 14.2%. This is the first time in nine years that there has been a decrease in the arrivals of foreign passengers to Iceland.
Around 98.8% of the total number of visitors to Iceland every year come on flights through Keflavík International Airport. 
Broken down by country, US passengers were the most numerous, approximately 464 thousand, and they, moreover, showed the greatest decrease, or approximately 230 thousand.
The departures of foreign passengers between the years 2018 and 2019 decreased in every month, with the greatest proportionate decrease being in May and September, or more than 20%.
---
Departures during 2015–2019
Departures of foreign passengers from Iceland were just under two million during the past year, or 14.2% fewer than in 2018. Even though there were significantly fewer passengers than in 2017 and 2018, the period ranks as the third most numerous travel year from the start of measurements.
During the period between 2014 and 2019, the increase between years was generally 17.1%, with the greatest being between 2015 and 2016, or 40.1%.
Most numerous nationalities
Of individual nationalities, the greatest number of departures in 2019 were from the US, approximately 464 thousand. This represents a third fewer departures of US citizens than in 2018. Departures of UK citizens came second, 262 thousand in 2018, decreasing by 12% between years. In total, US and UK departure passengers were 36.6% of all passengers.
Departures of German passengers in 2019 were in third place, approximately 132 thousand (6.7% of the total), decreasing by around 5.0% between years. Departures of Chinese passengers were in fourth place, approximately 99 thousand (5.0% of the total), steadily increasing by around 10.9% between years. Departures of French passengers were similar in number as the year before, around 97 thousand in 2019 (4.9% of the total).
Thereafter were the departures of Polish citizens (4.7%), Canadians (3.5%), Spaniards (3.0%), Danes (2.5%) and Italians (2.4%).
Departures by months
As can be seen in the accompanying table, the number of departures of foreign passengers decreased in all months of the year between 2018 and 2019. Departures deceased by more than 20% during two of the months in 2019: May and September. During six months of the year – April, June, July, August, October and November – the decrease was 10–20%. For four months – January, February, March and December – the decrease was less than 10% between the years 2018 and 2019.
8.6% decrease in December
Departures of foreign passengers from Iceland through Keflavík Airport in December were 125 thousand, around 11,800 fewer than in October 2018. The decrease between years is 8.6%. US citizens were the most numerous, around 9 thousand in total. Thereafter were UK citizens, who were 10% fewer, or approximately 3,000 passengers.
Further information*
All departure passengers were counted until October. Figures after that are based on systematic samples taken among passengers before entering the departures area at Keflavík Airport. The results are considered to be additional information to the passenger counts of Isavia to analyse the number of travellers to Iceland according to nationality and must be regarded with the reservations that the methodology involves. It should be noted, however, that most transfer passengers are not included in these figures.
The results from the surveys that Isavia has had conducted among departure passengers indicate that approximately 93% of departure passengers during the winter months are visiting Iceland for personal or business purposes and that they stay for one or more nights. Those who enter the country without staying have been measured as 2%. Self-connect passengers have measured between 2–4%, and foreign citizens residing in Iceland for shorter or longer periods are 1.4–3.4%.
The Icelandic Tourist Board reiterates that the number of departures of foreign passengers indicates developments in the arrival of travellers to Iceland. To draw any conclusions on changes in the scope of travel services, account must be taken of a greater number of indicators, such as the number of guest nights and traveller expenditures.
A more detailed division between countries can be seen below, and more information can be accessed under the item Research and Statistics / Number of foreign visitors here on the website.