SafeTravel information for the next few days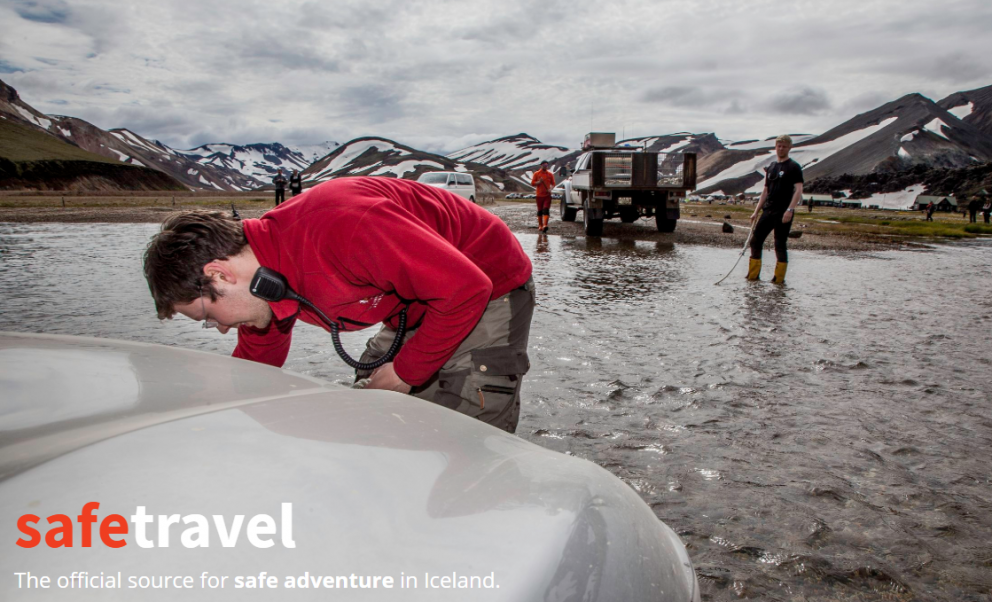 SafeTravel connects travelers in Iceland with essential resources to help reduce their exposure to risks and ensure a safe and comfortable travel experience. Here you find information for the next few days.
Useful information in one place:
We want to point out our new Travel Conditions map. Here you get information on road conditions, weather, wind speed, avalanche danger and many other things, as well as web cameras on various roads. All this in one map now.
---
Weather and road conditions: 
There are winter conditions all over the country now and at this time of year the roads are often snowy and icy; black ice in the mornings.  More or less everywhere you need to walk it's icy and in some places mini-crampons are a must!  
Weather: Weather alert for tomorrow (Thursday) in most parts of the country; strong winds, snowfall, blowing snow and difficult or no travel conditions. Friday looks better (so far) but Saturday the forecast is again very windy, snowfall and blowing snow. It's important to pay attention to the weather forecast all the time and change/adjust travel plans. 
---
Reykjanes: 
Valahnjúkur is closed due to fissures and danger of landslides!  
Seltún:  The whole area is high geothermal and dangerous boiling hot springs around. Stay on marked paths only - even on the opposite part of the road!!  
West Iceland: 
Snæfellsjökull National Park: Important to only go on the glacier with an experienced guide.  Show caution at/around sea cliffs. Stay on marked paths/trails. 
Djúpalónssandur: The beach is always dangerous due to the unpredictability of the waves. 
West Fjords: 
Notice that some roads have no winter service. Check https://safetravel.is/conditions before driving off. 
North Iceland: 
Dettifoss:  Winter conditions on the trails/paths. Good shoes, micro-spikes, proper winter clothes and good physical condition needed. To protect nature stay on the paths!  
Hvítserkur: The road down to the parking can be difficult for 2WD cars, 4x4 is better.  
South Iceland: 
Jökulsárlón(Glacier Lagoon) and Fjallsárlón: Do not walk on the ice or jump/climb onto icebergs. Falling into the ice cold water is fatal! 

Svínafellsjökull: Civil Protection advises against travel on Svínafellsjökull due to danger of landslide. Guided tours on the glacier are discouraged. Travelers are advised to stop only for a short while at viewpoints by the glacier tongue.  
Dyrhólaey: Recently there was a landslide from one of the edges and there is danger of more!  
Reynisfjara:  Part of the beach is closed due to a landslide and danger of more. Do not enter the cave –  danger of rocks falling from the ceiling. In general at the beach: show extra caution, stay FAR back from the water, and do not leave children unattended! The beach can always be dangerous due to the unpredictability of the waves. So called sneaker waves (every eighth wave or so) are dangerous for the sake that they reach further up and are stronger than the others. 
Seljalandsfoss: When the footpath behind the waterfall is closed – stay out! Ice-blocks have fallen from above and hit people. 
Gullfoss: The lower path to the waterfall is closed because of ice. Respect the closure and use the upper platforms.  
Highlands: 
F-roads are now impassable with no winter service. No rental cars allowed!  Do not enter if you come to a sign that says: CLOSED/IMPASSABLE!  
Fimmvörðuháls trail:  Extreme winter conditions on the trail and bad weather is a fact, any day. Hiking is now only for very experienced mountaineers with proper equipment/clothes. Crampons and ice-axe are necessary and the knowledge how to use them.  
Laugavegur trail:  Extreme winter conditions on the trail and bad weather is a fact, any day. Hiking not at all recommended! Huts on the trail are closed so there is no shelter for bad weather.  
Volcano Huts in Húsadalur (Thorsmörk) is open all year round.  
Hiking in general:    
Hiking in Iceland requires proper equipment, even on shorter hikes as trails are often not like the ones travelers are used to. Very bad weather can also be expected, even in the summer. Please study our equipment list because preparation is key for successful travel in Iceland. The way down can often be harder than the way up so hiking poles are a good tool to help tired knees.  
Trails can be wet, muddy and slippery so it's important to wear proper footwear. Remember to stay on marked paths and trails everywhere. 
Best regards,
Safetravel team