SafeTravel information for the next few days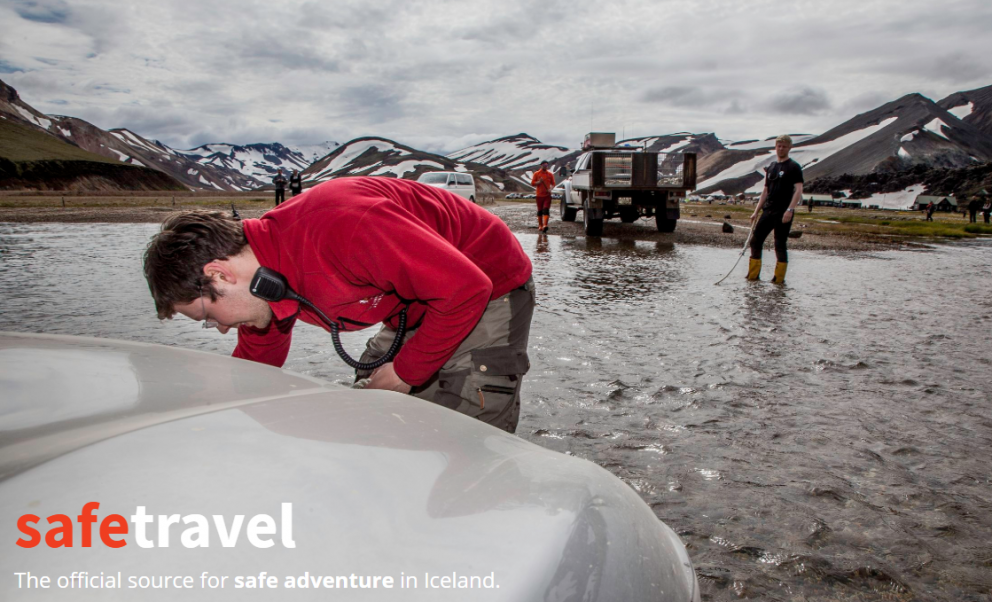 SafeTravel connects travelers in Iceland with essential resources to help reduce their exposure to risks and ensure a safe and comfortable travel experience. Here you find information for the next few days.
Useful information in one place: 
We would like to remind you of our "Conditions" page. There you can find information on road conditions and weather along with our conditions map where we put in alerts in the form of color coded triangles. You can click the triangles to access more information about each alert.
Weather: 
Nothing remarkable in the forecast in the next few days.  
Reykjavík and nearby: 
Grótta lighthouse:  No traffic (cars or people) allowed until July 29 because of nesting birds. 
Esja: Important not to underestimate the elevation gain and weather. It's important to stay on the trails and necessary to be dressed/equipped for bad weather because the weather conditions can change very quickly.   
Reykjanes: 
Valahnjúkur is closed due to fissures and danger of landslides!  
Seltún: Part of the hot spring area is closed due to high activity and danger of expolsions. Stay out of the closed area! The whole area is high gerthermal and dangerous boiling hot springs around. Stay on marked paths only - even on the other part of the road!!  
Krýsuvíkurbjarg: There's a big fissure in the cliffs and danger of landslides. 
West Iceland: 
Snæfellsjökull National Park: Important to only go on the glacier with an experienced guide.  Show caution at/around sea cliffs. Stay on marked paths/trails. 
Djúpalónssandur: The beach can always be dangerous due to the unpredictability of the waves. 
West Fjords: 
Látrabjarg:  In heavy rain Látrabjarg becomes very slippery and trails muddy.  
Hornstrandir:  Hiking there, people need to be very well equipped in case the weather gets bad. The nature in Fljótavík is very wet and not good for hikers. No phone connection except on top of some of the highest mountains.  
North Iceland: 
Dettifoss:  Be extra careful around the canyon and stay on marked paths.  
East Iceland: 
Stórurð:  Hiking trails are open.  
Hengifoss: Because of nature protection the trail is only open until the last viewing platform. Do not go any further. 
South Iceland: 
Svínafellsjökull: Civil Protection advises against travel on Svínafellsjökull due to landslide danger and guided tours on the glacier are discouraged. Travelers are advised to stop only for a short while at viewpoints by the glacier tongue.  
Fjaðrárgljúfur:  Nature is very sensitive. Stay on paths and do not climb over fences/ropes! 
Dyrhólaey: The road to Háey is in very bad condition and only for 4x4 jeeps. When walking around, do not climb over fences/ropes and keep away from the edge of cliffs. Show extra caution when it's windy.  
Reynisfjara:   Use extra caution, stay FAR back from the water, and do not leave children unattended! Do not enter the cave! Rocks fall from the "ceiling" and going there you can get caught in the waves. The beach can always be dangerous due to the unpredictability of the waves. So called sneaker waves (every eighth wave or so) are dangerous for the sake that they reach further up and are stronger than the others. 
Kirkjufjara: Closed.   
Reykjadalur: The trail is in good condition. Proper hiking shoes required though. Stay on marked trails, nature in the area is very sensitive, plus there are dangerous hot springs around. 
Highlands: 
Notice that F-roads are only passable for 4x4 jeeps and some of them only for big modified jeeps (superjeeps). F-Roads are in general open now but that can change if conditions change – do not at all enter if you come to a sign that says: CLOSED/IMPASSABLE! 
Road F26 Sprengisandur is passable for bigger 4x4´s. Rivers around Nýidalur can be difficult for 4x4 the size of Dacia Duster. 
Road 249/F249 to Þórsmörk is only passable for bigger 4x4 jeeps – river crossing there is not suitable for Dacia Duster and similar. Do not try to cross the Krossá river! It's only for modified jeeps (superjeeps) and very experienced drivers who know that river very well.  
Fimmvörðuháls trail:  There is snow on the highest part of the trail. A challenging hike and conditions vary a lot on the weather - even at this time of year. Warm clothes, wind- and waterproof jacket and trousers, as well as proper hiking boots are necessary.  
Laugavegur trail:  Patches of snow for approx 2-3 kms in total before and after Hrafntinnusker. In general conditions on the trail vary a lot on the weather - even at this time of year. Warm clothes, wind- and waterproof jacket and trousers, as well as proper hiking boots are necessary. 
Road F88 to Askja/Drekagil: River Lindá is in general too deep for smaller 4x4 jeeps (Dacia Duster and similar). Drive F905 and F910 instead. 
Gæsavatnaleið highland route: (south route between F26 and Askja/Drekagil): CLOSED because of extreme water levels at Flæður.  
Kverkfjöll:  Road only passable by 4x4 jeeps. Do not go into the ice-cave! 
Askja/Drekagil:  There's wet snow (difficult to walk) over Dyngjufjöll mountains on the Askja hiking trail and on the walking trail to Víti. 
Hiking in general:    
Hiking in Iceland requires proper equipment, even on shorter hikes as trails are often not like the one's travelers are used to. Very bad weather can also be expected, even in the summer. Please study our equipment list because preparation is key for successful travel in Iceland. The way down can often be harder than the way up so hiking poles are a good tool to help tired knees.  
Trails can be wet, muddy and slippery so it's important to wear proper footwear. Important to stay on marked paths and trails everywhere. 
Best regards,
Safetravel team