SafeTravel information for the next few days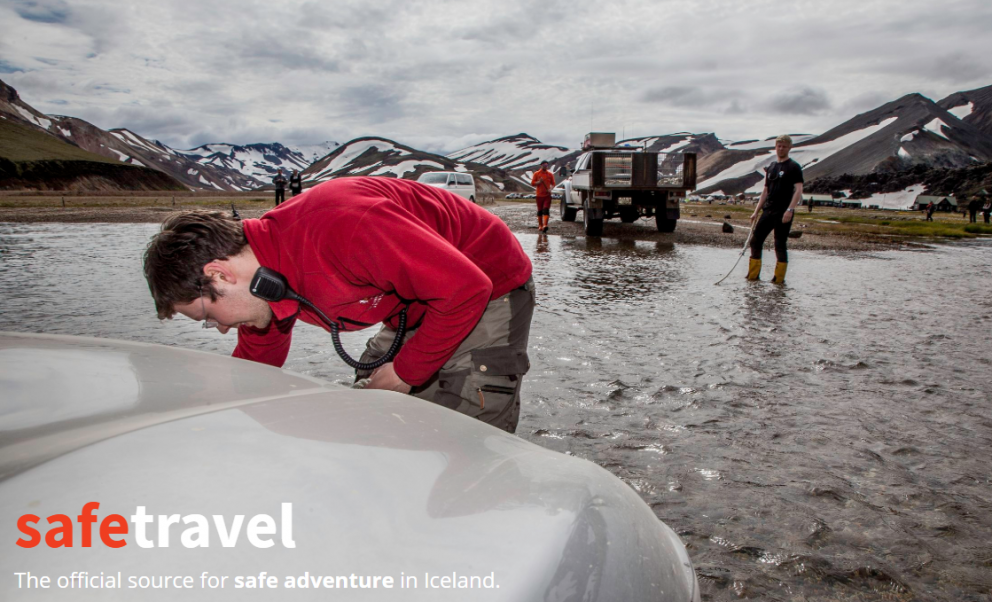 SafeTravel connects travelers in Iceland with essential resources to help reduce their exposure to risks and ensure a safe and comfortable travel experience. Here you find information for the next few days.
Useful information in one place:
We would like to remind you of our "Conditions" page. There you can find information on road conditions and weather along with our conditions map where we put in alerts in the form of color coded triangles. You can click the triangles to access more information about each alert.
Weather and road conditions: 
Heavy rain forecasted here and there  the next few days but nothing out of the ordinary in the forecast though. 
Notice that now when it's starting to freeze at night, roads/streets in different parts of Iceland can be icy in the morning. 
Reykjavík and nearby: 
Esja: Important not to underestimate the elevation gain and weather. It's important to stay on the trails and necessary to be dressed/equipped for bad weather because the weather conditions can change very quickly.   
Reykjanes: 
Valahnjúkur is closed due to fissures and danger of landslides!  
Seltún:  The whole area is high geothermal and dangerous boiling hot springs around. Stay on marked paths only - even on the other part of the road!!  
Krýsuvíkurbjarg: There's a big fissure in the cliffs and danger of landslides. 
West Iceland: 
Snæfellsjökull National Park: Important to only go on the glacier with an experienced guide.  Show caution at/around sea cliffs. Stay on marked paths/trails. 
Djúpalónssandur: The beach can always be dangerous due to the unpredictability of the waves. 
West Fjords: 
Hornstrandir: Scheduled ferries are no longer sailing.  
North Iceland: 
Dettifoss:  Be extra careful around the canyon and stay on marked paths.  
East Iceland: 
Stuðlagil: Development and construction in the area. Parking lot has been constructed with information signs and marked trails, platforms and better access to the area is still being worked on. Jökulsá á Dal is a glacial river that flows down the canyon, the flow in the river can change very fast especially when Hálsón is overflowing and water is falling down the spillway, during these conditions the river level increases a lot and the river current becomes strong. Keep a decent distance from the river bank, do not walk close to the river and under no circumstances go into it! 
South Iceland: 
Jökulsárlón: Do not walk onto the sand reef at the beach directly below Jökulsárlón. The sand is a dynamic site and is constantly changing. Right now, it is not fully known if it is safe to walk out to the sand reef.  
Svínafellsjökull: Civil Protection advises against travel on Svínafellsjökull due to landslide danger and guided tours on the glacier are discouraged. Travelers are advised to stop only for a short while at viewpoints by the glacier tongue.  
Fjaðrárgljúfur:  Nature is very sensitive. Stay on paths and do not climb over fences/ropes!  
Dyrhólaey: The road to Háey is only for 4x4 jeeps. When walking around, do not climb over fences/ropes and keep away from the edge of cliffs. Show extra caution when it's windy.  
Reynisfjara:  Part of the beach is closed due to a landslide. Do not enter the fenced off area! It is closed for security reasons! Do not enter the cave – there is danger of rocks falling from the ceiling. In general at the beach: show extra caution, stay FAR back from the water, and do not leave children unattended! The beach can always be dangerous due to the unpredictability of the waves. So called sneaker waves (every eighth wave or so) are dangerous for the sake that they reach further up and are stronger than the others. 
Kirkjufjara: Closed.   
Reykjadalur: The trail is in good condition. Proper hiking shoes required though. Stay on marked trails, nature in the area is very sensitive, plus there are dangerous hot springs around. 
Highlands: 
Notice that F-roads are only passable for 4x4 jeeps and some of them only for big modified jeeps (superjeeps). F-Roads are in general open now but that can change if conditions change – do not at all enter if you come to a sign that says: CLOSED/IMPASSABLE! 
Road F26: No winter service. The road is most likely impassable by now for smaller 4x4 (Dacia Duster and similar). Do not take any chances! Superjeeps only. 
Nýidalur: Hut is closed. 
Road 249/F249 to Þórsmörk is only open/passable for tour buses and superjeeps. Waterlevels in rivers are too high for smaller jeeps (Dacia Duster and similar). 
Fimmvörðuháls trail:  Extreme winter conditions on the trail and bad weather is a fact, any day. Hiking is only for very experienced mountaineers with proper equipment/clothes - crampons and ice-axe are necessary and the knowledge how to use them.  
Laugavegur trail:  Extreme winter conditions on the trail and bad weather is a fact, any day. Hiking not at all recommended! Huts between Landmannalaugar and Thorsmörk have closed so there is no shelter for bad weather.  
The hut in Landmannalaugar and the ones in Langidalur and Básar (Thorsmörk) will be open for some time more into to autumn. Volcano Huts in Húsadalur (Thorsmörk) is open all year round.  
Road F206 to Lakagígar is not passable for smaller 4x4 jeeps (Dacia Duster and similar) because of high water levels in rivers. 
Road F88 to Askja/Drekagil: River Lindá is in too deep for smaller 4x4 jeeps (Dacia Duster and similar). Drive F905 and F910 instead. 
Drekagil/Herðubreiðarlindir: Hut is closed. Rangers will be in the area a bit longer. 
Road F910 between Askja and Sprengisandur is only passable for superjeeps.  
Kverkfjöll: The hut is closed now. 
Hiking in general:    
Hiking in Iceland requires proper equipment, even on shorter hikes as trails are often not like the one's travelers are used to. Very bad weather can also be expected, even in the summer. Please study our equipment list because preparation is key for successful travel in Iceland. The way down can often be harder than the way up so hiking poles are a good tool to help tired knees.  
Trails can be wet, muddy and slippery so it's important to wear proper footwear. Important to stay on marked paths and trails everywhere. 
Best regards 
Safetravel team