New visitor survey – Summer 2016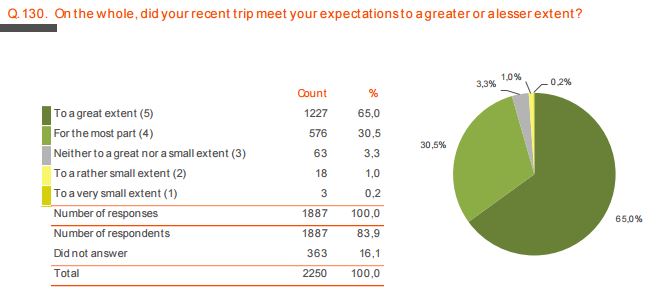 The Icelandic Tourist Board has published a new visitor survey. The respondents are foreign tourists in Iceland in the months of June 2016 through August 2016 and the survey is about their experience in Iceland during the summer months. 
The survey started June 10t h and ended September 22n d. Interviewers collected e-mail addresses from tourists i n Reykjavik, Keflavik international airport and Seyðisfjörður seaport. They collected around 1500 e-mail addresses per month. Following that an internet survey was sent t o them via e-mail. Reminder was sent three times t o those who did not respond. The survey is the continuation of the same survey, conducted from October 2015 to May 2016, but those results were published at the ITB website in September. 
The visit met the expectations and most people will return
Various interesting results can be found in the survey worth comparing with the results from previous surveys. The visit to Iceland met the expectations of 95.5% of respondents, a similar ratio as in the winter 2015-2016 survey and for the same period of the summer in 2014 (95.6%) and 2011 (96.0%). These findings indicate that people that visited Iceland in the summer of 2016 were, as before, satisfied with the visit. Almost 82% of respondents felt likely that they would travel again to Iceland.
International Visitors in Iceland - Visitor Survey Summer 2016 (PDF)