First 5 Star Hotels in Iceland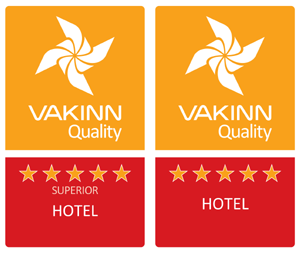 The names of the first five star hotels in Iceland were announced last week. These are The Retreat Hotel - Blue Lagoon, a five Star Superior Hotel, and
Hótel Grímsborgir, a five Star Hotel.
This is a major, positive milestone for tourism in Iceland, since quality has been an important emphasis in recent years, both in government policies and the tourism sector in general.
Vakinn, the only accredited star system
The two hotels are certified according to Vakinn, the only accredited star system for accommodation quality in Iceland. According to Icelandic legislation, the use of stars or other signs of quality is only allowed following a formal audit by a third party, recognized by government.
VAKINN is the official quality and environmental system within Icelandic tourism, managed by the Icelandic Tourist Board. Its goal is to strengthen quality, safety and environmental awareness within Icelandic tourism, as well as to promote the social responsibility of service providers in the process. The Vakinn star rating system for hotels is composed according to the European Hotelstars system, led by Hotrec, the umbrella association of hotels, restaurants and cafés in Europe. On the Vakinn website you can find further information about the system and also a list of the hotels / accommodations that have fulfilled the criteria and can use the stars in their marketing.
The Icelandic Tourist Board wants to congratulate the owners and staff of both hotels for their impressive achievement.