43% increase in tourist arrivals in February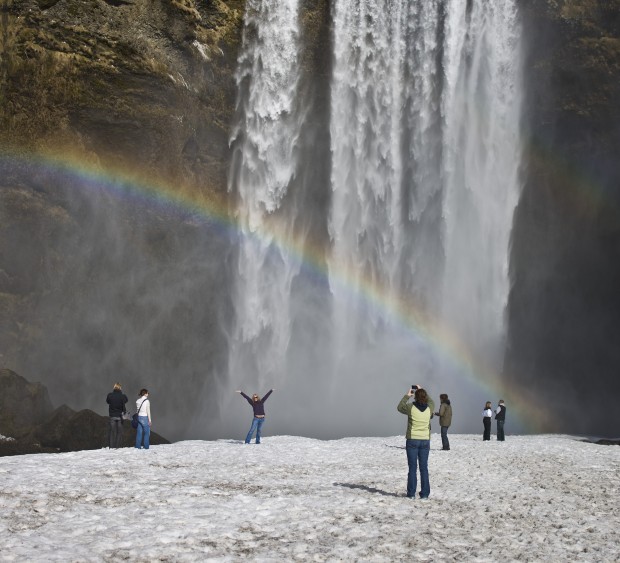 Skógafoss - South Iceland.
February 2013 was a yet another record month in terms of international tourist arrivals to Iceland, according to the Icelandic Tourist Board tally at Keflavík International Airport. Forty thousand tourists left the country in February, or 12 thousand more than in the same month in 2012. This represents a 43.2% increase.
Threefold increase in tourist arrivals from 2003 to 2013
Tourist arrivals have increased by an average of 12,8% on an annual basis since 2003. Numbers of tourists have more than tripled in that period, increasing from 13 thousand to 40 thousand.
British visitors 40% of tourists
Most tourists in February came from the UK (39.9%). Tourists from the United States were 13.4% of the total, Norwegians 8.0%, Germans 5.7%, French 4.2% and Danes (4.0%). Altogether these six nations count for nearly three-quarters of tourists in February. Tourists from UK, Americans and Germans also showed the highest increase in numbers in February.
Significant increase from all market areas
If we look at individual market areas a 56.0% increase is observed from Central and Southern Europe, 51.8% from the UK, 37.7% from North America, 16.6% from the Nordic countries and 45.2% from countries that are classified as 'other nationalities'.
Tourist arrivals from the beginning of 2013
So far this year, 73,269 foreign tourists have left the country via Keflavik International Airport, 19 thousand more than in the same period last year. This represents a 35.5% increase. A substantial increase has been observed from most markets; from Britain by 48.8%, visitors from Central and South Europe 40.2%, North Americans about 32.6%, and tourists from other markets around 38.4%. Scandinavians have increased by less, or 8.3%.
VISITORS TO ICELAND THROUGH KEFLAVIK AIRPORT

February by nationality

January-February by nationality

Increase/decrease

Increase/decrease

2012

2013

No

(%)

2012

2013

No

(%)

USA

3.879

5.357

1.478

38,1

USA

7.793

10.411

2.618

33,6

UK

10.522

15.970

5.448

51,8

UK

17.478

26.001

8.523

48,8

Denmark

1.525

1.590

65

4,3

Danmark

3.240

3.094

-146

-4,5

Finland

238

387

149

62,6

Finland

654

734

80

12,2

France

1.336

1.671

335

25,1

France

2.723

3.042

319

11,7

Netherland

1.021

1.272

251

24,6

Netherland

1.743

2.005

262

15,0

Italy

208

299

91

43,8

Italy

457

634

177

38,7

Japan

1.078

1.148

70

6,5

Japan

2.154

2.714

560

26,0

Canada

284

374

90

31,7

Canada

645

778

133

20,6

China

343

779

436

127,1

China

792

1.517

725

91,5

Norway

1.949

2.418

469

24,1

Norway

3.667

4.421

754

20,6

Poland

341

490

149

43,7

Polland

811

976

165

20,3

Russia

66

245

179

271,2

Russia

381

600

219

57,5

Spain

206

321

115

55,8

Spain

558

736

178

31,9

Switzerland

169

427

258

152,7

Switzerland

421

772

351

83,4

Sweden

1.035

1.142

107

10,3

Sweden

2.475

2.622

147

5,9

Germany

1.079

2.278

1.199

111,1

Germany

2.351

4.379

2.028

86,3

Other

2.630

3.811

1.181

44,9

Other

5.718

7.833

2.115

37,0

Total

27.909

39.979

12.070

43,2

Total

54.061

73.269

19.208

35,5

February by market area

January-February by market area

Increase/decrease

Increase/decrease

2012

2013

No

(%)

2012

2013

No

(%)

Nordic countries

4.747

5.537

790

16,6

Nordic countries

10.036

10.871

835

8,3

UK

10.522

15.970

5.448

51,8

UK

17.478

26.001

8.523

48,8

Central-/S-Europe

4.019

6.268

2.249

56,0

Central-/S-Europe

8.253

11.568

3.315

40,2

N-America

4.163

5.731

1.568

37,7

N-America

8.438

11.189

2.751

32,6

Other

4.458

6.473

2.015

45,2

Other

9.856

13.640

3.784

38,4

Total

27.909

39.979

12.070

43,2

Total

54.061

73.269

19.208

35,5

Iceland

21.242

20.833

-409

-1,9

Iceland

44.629

44.089

-540

-1,2