New Map Improves Tourist Safety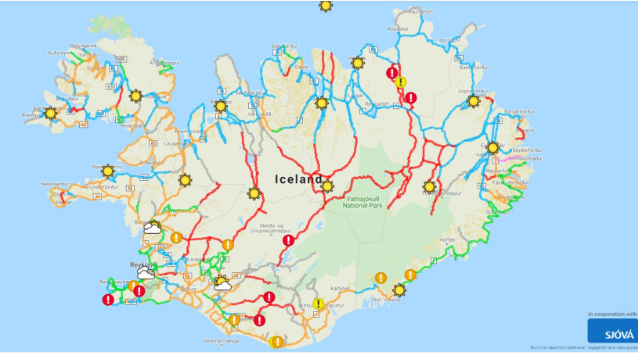 This is what the map looked like early this morning. Screenshot/Safetravel
Safetravel.is, the official source for safe travel in Iceland, has introduced a new map of travel conditions which combines what used to be three maps in one, mbl.is reports. Minister of Tourism Þórdís Kolbrún R. Gylfadóttir formally launched the map yesterday.
The goal is for the new map to increase tourist safety. At the official ceremony, Þórdís Kolbrún called the map a big step toward tourist safety in the country, by showing updated travel conditions, such as weather, road conditions, travel conditions at tourist attractions, wind gusts on roads, avalanche forecast, and much more.
She welcomed the initiative and stated that the cooperation of her ministry and ICE-SAR, the Icelandic Association for Search and Rescue, is valueable. This cooperation was recently renewed when funding for the Safe Travel project was increased.
The new map greatly simplifies access to travel information. This is essential in a country where travel conditions can change very quickly.