Departures in March down by more than 50%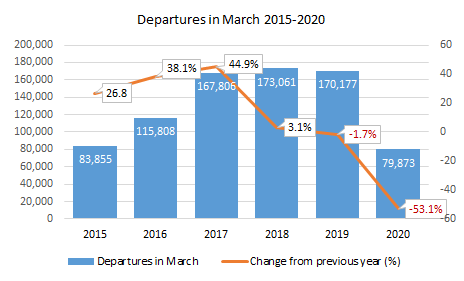 Departures of foreign passengers from Iceland via Keflavik airport were about 80 thousand in March, according to figures from the Icelandic Tourist Board, or less than half the numbers in March 2019, when departures were 170 thousand. The reason for this reduction in number should be obvious.
It is necessary to look back to 2015 to see a similar number of departures in March. The number of passengers to Iceland has increased significantly in March for the last years, and was around 173 thousand at its peak, in March 2018.
Since the beginning of the year, 334 thousand foreign passengers have departed from Iceland via Keflavík Airport, which is a decrease of 27.2% compared to the same period last year.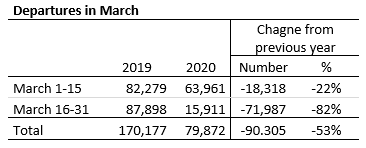 If the distribution of departures within the month is examined, we see that 80% of foreign departures were in the first half of the month (March 1 - 15) or about 64 thousand and about 20% in the second half (March 16 - 31). The decrease in the first half of the month was 22% compared to March last year, which is similar to the trend in the first two months of the year. Looking at the latter half of March, we can see almost four times fewer departures than in the same period 2019.
If we look at individual markets the UK had the largest market share in March, or about one third of all departures. The number of passengers from UK decreased by 34% from previous year.
USA was the second largest market in March with 18.3% of all passengers, showing decrease of 61.5%.