Eruption Continues North of Vatnajökull Glacier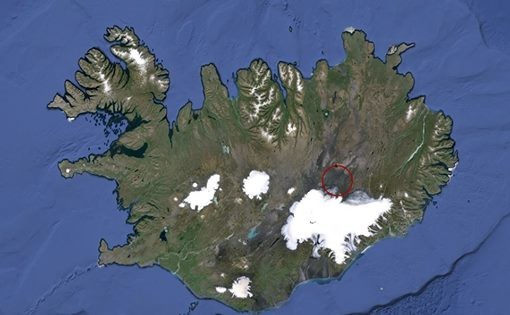 Location of the eruption.
The eruption north of Vatnajökull Glacier continues, with no signs of abating. The eruption is in a remote, uninhabited area and causes no immediate threat to people or populated areas.
Travelers are advised to monitor the latest information on the web and visit the nearest tourist information center. 
Key facts:
All airports are open and no restrictions on air traffic

All parts of the main road (Road 1) are open

No volcanic ash has been detected

The eruption is in a remote, uninhabited area

No immediate threat to people or populated areas
Gas pollution
The biggest cause for concern at this moment is related to gas pollution emitted from the eruption site. These gases contain Sulphur Dioxide, which can cause discomfort in large doses. The situation is monitored closely and dispersion models have been effective. If gas pollution in a particular area climbs above a certain level, Icelandic Civil Protection authorities will send an SMS to every phone with in the area with an update on the situation.
Restrictions on traffic
There are closures in the highlands North of Vatnajökull glacier and also some restrictions on roads west of Jökulsárgljúfur canyon. But roads to Dettifoss waterfall are nevertheless open on both sides of the river. This decision is a safety measure and goes for both driving and hiking. Disregarding closures around the eruption site can be life-threatening!
Up to date information on the roads in Iceland is available by phone in the number 1770.
Please follow these websites:
Civil Protection in Iceland (on Twitter)
Civil Protection in Iceland (on Facebook)
The Icelandic Road and Coastal Administration 
The Icelandic National Broadcasting Service