Environmental protection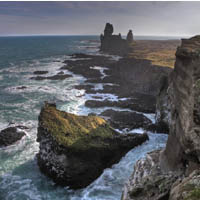 Protection of the environment is a major factor in the development of tourism, due to the sensitive nature of Iceland's environment and the fact that a large majority of visitors to the island site its unique nature as the determining factor for the visit.
The Icelandic Tourism Board puts great emphasis on the environment in a variety of ways. These include the allocation of funding for the conservation, improvement and development of environmental issues at tourism sites; consultation, participation in planning and landscape development, as well as individual environmental projects.
The steady increase of tourism has been the driving force behind infrastructure and site development.
Tourist Site Protection Fund 
The creation in 2011 of the Tourist Site Protection Fund has led to substantial funding increases for improvements in popular tourist attractions and national parks. has an independent governing board, and is hosted at and serviced by the Icelandic service board.
Close co-operation
The Icelandic Tourist Board works in close co-operation with municipalities, government agencies, individuals, organisations and companies. However, all projects have the goal of improving access around the country and increasing the tolerance limits of tourism areas.